Back to search results

View favourites
Jaguar F-PACE 30d (2018)
- car hire
Add to favourites

Status:
Available from 16/07/20
Min. Booking:
2 Days
Style:
Wagon
Transmission:
Automatic
Price Includes:
100 + 50 EXTRA km per day
Excess km rate: $0.20 / km
Comprehensive Insurance
Roadside Assistance
Servicing and maintenance
Damage Liability:
$6000
Reduce this
Min. Driver Age:
21
Comprehensive Insurance:
YES
Features:
ABS(Antilock Brakes)
Air Conditioning
Airbags
Power Windows
Central Locking
Cruise Control
Control - Park Distance Rear
Bluetooth
GPS (Satellite Navigation)
Sunroof
My luxurious brand new 2018 Jaguar F Pace is a stunning vehicle with sexy black and red interior leather seats, park assist, panoramic sunroof, and features many other luxury features. It is an absolute pleasure to drive - start your holiday trip in pure luxury. 700 KM in full 60 litre tank NO SMOKING NO PETS
Reviews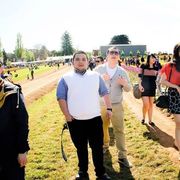 Very nice car, owner's really helpful and is a good bloke.
28/10/2018






What a fantastic experience. The car is brilliant, the handover process is easy and the owner is excellent to deal with. Look forward to further opportunities to rent this car.
13/01/2020





Reduce your Damage Liability
The Damage Liability is the amount you may have to pay in the event of theft or accident.
You can choose to pay a Damage Liability Waiver which will reduce the amount you have to pay if the vehicle is stolen or you have an accident. Rates start from only $3.30 per day. You can select your preferred Damage Liability Waiver when confirming your booking with our Sales Team.
Reduce $2,750 Damage Liability to $500
Reduce $3,500 Damage Liability to $1,500
Reduce $6,000 Damage Liability to $3,000
Days
Damage Liability Waiver
per day inc GST
From
To
2
6
$20.00
7
30
$14.50
31
59
$12.00
60
119
$9.00
120
269
$5.50
270
365
$3.30
The damage Liability for drivers less than 25 year old incur an additional $500 surcharge